Fruit, vegetable exports strengthen
[

point evaluation

5

/5 ]

1

people who voted
Đã xem: 2411
| Cật nhập lần cuối: 3/17/2016 2:10:03 PM
| RSS
Fruit, vegetable exports strengthen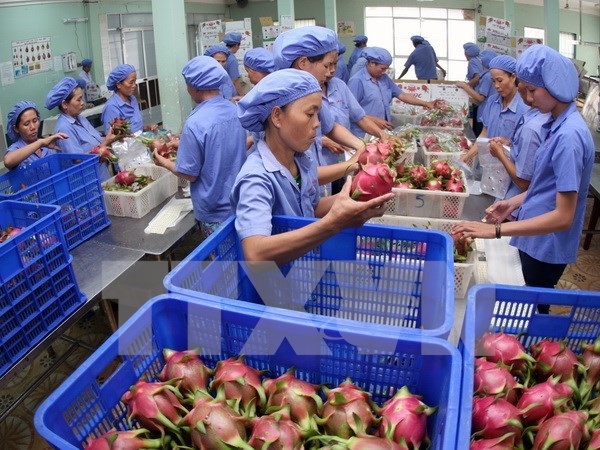 Last year, export revenue reached US$1.85 billion for fruits and vegetables, an increase of more than 24 per cent over 2014, the association said. — VNA/VNS Photo Quang Nhut
HCM CITY (VNS) — Việt Nam's fruit and vegetables export will continue to enjoy good growth this year, according to the Việt Nam Fruit and Vegetables Association (Vinafruit).
Last year, export revenue reached US$1.85 billion for fruits and vegetables, an increase of more than 24 per cent over 2014, the association said.
In the first two months of the year, revenue from fruit and vegetable exports went up by 39 per cent over the same period last year.
According to the Ministry of Agriculture and Rural Development, Việt Nam exported more than 40 kinds of fruits and vegetables to over 40 countries and territories.
Fastidious markets such as the US, Australia, EU and Japan have opened their doors to Vietnamese fruits like longan, litchi and mango.
The Châu Thành Co-operative in An Giang Province, for instance, exported more than 100 tonnes of fresh longan to the US and EU last year.
Earlier this year the cooperative signed an order to export nearly 100 tonnes of fresh longan to the US.
More cultivation areas have met VietGap and GlobalGap standards as well as hygiene and food safety requirements set by importers, the ministry said.
In addition, businesses have enhanced their trade promotions to seek new customers.
The agricultural sector is speeding up negotiations with countries aiming to boost export of key fresh fruits, including dragon fruit, rambutan, longan, litchi, mango and pomelo.
Many other demanding markets will continue to open their doors to Việt Nam's fruits and vegetables this year, it said.
However, exports of fruit and vegetables is largely dependent on Asian countries, especially the Chinese market, the association said.
Enterprises need to diversify their export markets.
To ensure quality, companies should invest in advanced technologies to process fruit and vegetable products as well as develop closer links with farmers from plantation to processing. — VNS
Source: Vietnamnews.vn